I'm passionate about history, but like many history buffs, I get a bit stuck in my own rut and prefer reading in my own time periods and topics. When Alexandra Allred told me she'd written a book about women's sports history, I realized this was a chance to fix a gap in my knowledge. Still, I wondered how well I'd connect with the topic because I'm not a very sports-orientated person.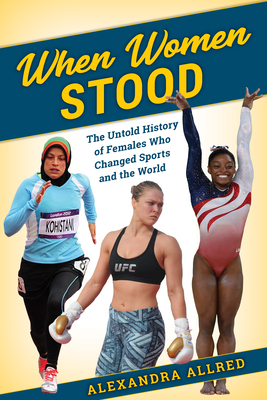 I quickly realized I hadn't thought enough about this topic and how it entwines in so many aspects of women's history: suffrage, racism, women's freedom to travel, sexuality, and birth control. This book took me on a journey to realizing the fundamental truth I had been missing: for women, sports represent freedom – the freedom to control their own bodies and their own destiny.
But humanity has always taken a dim view of women controlling anything. Even the aesthetics of the body – one chapter in the book struck a very poignant note. Women athletes wearing snug-fitting uniforms were urged to lose weight, even when cutting calories was detrimental to their performance. Arguably the strongest, most physically-fit women in the country were thought to be too large to be attractive, and if that doesn't reveal the lie behind the claim that body shaming is because of concern for their health, nothing will.
Allred doesn't shy away from the tough topics, either. She writes about trans women in sports and the concerns over biological advantage, but it's always with respect and compassion. There's a segment about sexual abuse of women athletes that was very difficult for me to read.
I learned about Title IX and women pilots (I never thought of flying as a sport, but it clicked and made sense!) Moreover, I learned just how much of women's history I'd been missing by not exploring this topic. I was introduced to so many heroes and pioneers whose stories I want to delve into further.
For a history buff, it's a feast. For someone studying women's history, it's essential.
.¸¸•.¸¸.•´¯`• (¯`•ღ•´¯)•´¯`•.¸¸.•.¸¸.
When Women Stood: The Untold History of Females Who Changed Sports is now available for pre-order in the US and in the UK.